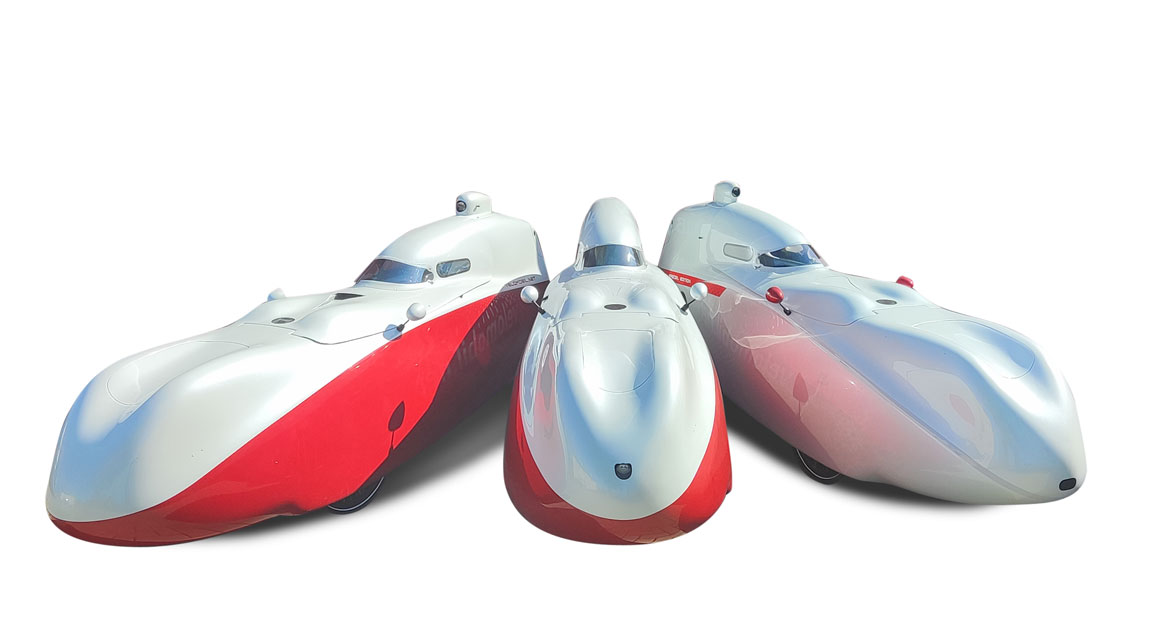 Available, delivery time 5-7 months
**Final prices may differ, due to possible recalculations in the shopping cart.
Product information "Milan Velomobile"
The Milan is one of the fastest velomobiles on the international market. Many records testify to its ability. And although it is record-breaking fast, many riders also ride the Milan in their everyday commute to work - quite normally on the road between the other commuters in their cars!
This is made possible by the sophisticated aerodynamics and a low-friction chain guide. Together with the driver, the Milan wants to eat up kilometres, it literally craves to be moved at 40, 50, 60 km/h and more.
Sound unbelievable? Experience it for yourself on a test ride!
All Milan models are still based on the ingenious design of Hamburg aerodynamicist Eggert Bülk. Characteristic of the successful concept remains the sum of positive features that prove themselves in everyday use under difficult conditions. The aerodynamics are not only trimmed for extremely low air resistance, but also the susceptibility to crosswinds is absolutely low for such a light vehicle.
When properly loaded, the Milan maintains its inherently stable running behaviour even in strong crosswinds, i.e. the crosswind itself causes a correction of the deflection, so that it is often not even possible to notice which direction the wind is coming from.
All Milans are equipped as standard with:
high-quality carbon fabric with higher strength = complete vehicle made of carbon, there is no longer a glass variant
One-piece front mast made of carbon, with adjustability of the bottom bracket slide
Complete electrical system: 2 separately switchable high-performance Cyo-Premium front headlights, turn signal system with 4x 3 Watt LED, daytime running light integrated as LED in the rear, brake light integrated as LED in the rear, horn, lithium-ion battery from Lupine
2x 11 gears SRAM shifting, different gear ratios selectable
Trigger gear lever
High-quality car paint in various RAL colours selectable
Hatch cover in carbon
Tubeless rims (can also be ridden with inner tubes)
Full front and rear suspension (without rear suspension a.o.)
Speedometer
Vehicle weight ready to ride: approx. 24 kg (SL)
Service flap for rear derailleur and rear wheel axle at the rear, can be opened without tools
Technical data:
Data Milan SL
Length 2.73 m
Width 0.696 m Body
Height 81.5 cm (unloaded)
Weight 24 kg
Turning circle 14 m (depending on front wheel tyres)
Seat angle adjustable
Data Milan GT
Length 2.75 m
Width 0.76 m Body
Height 88.3 cm (unloaded)
Weight 24.5 kg
Turning circle 11-13 m (depending on front wheel tyres)
Adjustable seat angle