Available in 14 days, delivery time 1-3 days
Product information "XTPower Powerbank XT-20000QC3-AO"
I have been using this battery myself in my Milans for many years!
XT-20000QC3 with its own power supply unit
Only about 2cm thick and 450g light: this simple and timelessly designed power bank combines all the functions you would expect from a high-quality power bank. It has a battery capacity of 20100 mAh and has three outputs, one of which is for the laptop and two others for USB-compatible devices. One USB output supports the Quick Charge standard QC3, allowing up to 75% faster charging of your QC3 compatible devices. The long-lasting and high-performance lithium-ion battery stands for durability and high quality. Of course, the XT-20000QC3 powerbank has overcharge protection, discharge protection and short-circuit protection.
Technical data:
Capacity: 20100 mAh (3.7V) / 75.5Wh
three outputs for USB (5V), USB QC3 (3.8 - 12V) and laptop (12V, 15V, 16.5V, 19V, 20V and 24V)
powerful lithium-ion battery
safety through overcharge protection, discharge protection and short-circuit protection
Includes 8 different DC adapters and a USB connection cable
Continuous operation of devices at the DC output from 4 watts and USB output from 0.5 watts possible.
Power supply unit and car charger included in the scope of delivery
The battery with the special variety
Charging: You can charge your energy storage either with a USB, QC2 or QC3 mains adapter via the micro USB input or also at the DC input with a mains adapter (13-20V). Charging with the mains adapter is up to 3 times faster here. The matching power supply unit is included in the scope of delivery.
Power supply: Two USB ports can charge or operate smartphones, tablets and many other devices. Modern QC3-compatible devices can also be charged up to 75% faster at the corresponding output of the power bank than at the conventional USB output. A round socket and the included adapters make the powerbank a specialist for devices with input voltages from 12V to 24V. The continuous load of 50 watts and a peak of 65 watts allows the operation and charging of many mobile devices. This means that operation in a velomobile is also possible without any problems! If necessary, a step-down converter to 7.5V should be installed for vehicles without a 12V consumer.
Display: The easy-to-read digital display provides the necessary overview. The respective input or output power is shown on the digital display. At the same time, you receive information on the battery charge status and the active outputs.
Scope of delivery:
Powerbank XT-20000QC3
Power supply unit 16V
Car charger adapter
DC cable for connection to laptops with length 2m
Set of 8 adapters (see tab "technical data")
Micro-USB charging cable
Instructions
Note on the disposal of used batteries
1. Free return of used batteries
Batteries must not be disposed of with household waste. You are legally obliged to return used batteries so that proper disposal can be ensured. You can return used batteries to a municipal collection point or to your local retailer. As a distributor of batteries, we are also obliged to take back used batteries, although our take-back obligation is limited to used batteries of the type that we carry or have carried in our range as new batteries. You can therefore either return used batteries of the aforementioned type to us with sufficient postage or hand them in free of charge directly to our dispatch warehouse at the address given in the imprint.
2. Meaning of the battery symbols
Batteries are marked with the symbol of a crossed-out waste bin (see below). This symbol indicates that batteries must not be disposed of with household waste. Batteries containing more than 0.0005% mercury by mass, more than 0.002% cadmium by mass or more than 0.004% lead by mass are marked with the chemical name of the pollutant below the dustbin symbol - "Cd" stands for cadmium, "Pb" for lead and "Hg" for mercury.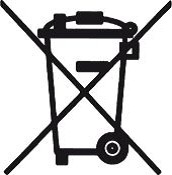 Compatibility:

DF

, Evo R

, Milan