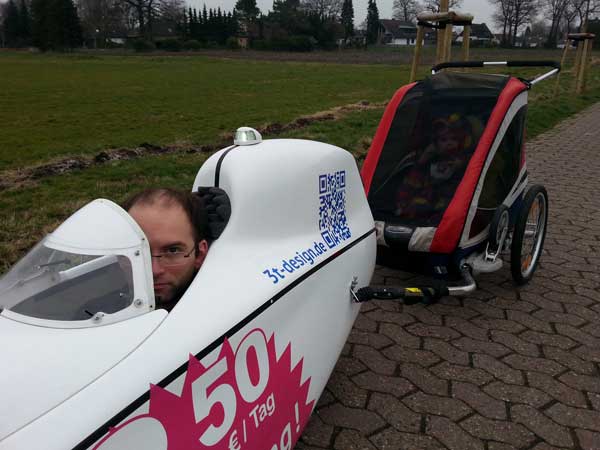 About me
---
Hi there! I am Henning Tesch from Ottersberg near Bremen.
I will give you a brief insight into how I came to turn hobby into profession!

How does one become a velomobile dealer?
Well, I have to backtrack a bit: I came into contact with recumbents in the 90s. Right after my exchange year in the USA, my father had enrolled us in a VHS course (=adult education course) in Bremen. Under the guidance of Jochen Franke, we built recumbents for our own use, so everyone built their own recumbent to a large extent. This started with cutting the tubes to length, milling and soldering the frames, through to lacing and centring the wheels and final assembly of the recumbent.
Fortunately, I had learned MIG/MAG and oxyacetylene welding (brazing) in the USA, as well as gaining my first experience on a CNC lathe and milling machine. Here in Germany, I then attended a technical high school specialising in metal - i.e. welding, soldering, milling etc. again. So I was able to put the theoretical knowledge directly into practice.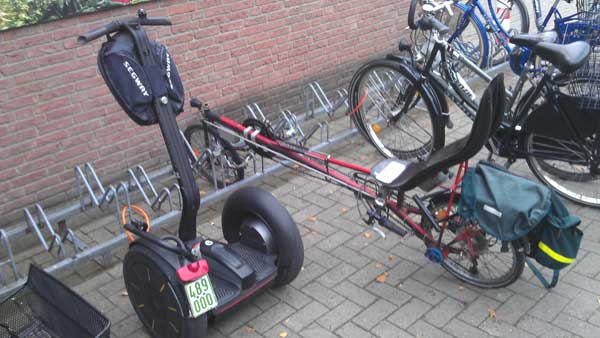 My first self-built recumbent bike (behind the Segway)
After the recumbent (a long-wheel recumbent, front and rear suspension + damping) was finished and had successfully brought me (as a spectator) to the World Championships in Leicester (England) and back (1500km in about 10 days), I continued with the next course: a recumbent trike was developed and built!
Of course I was involved again. This time I was involved from the very beginning: planning, calculations, first rough drafts and tests etc.
I drove the first prototype 45 km from Bremen/Germany to Hambergen/Germany (where I lived at the time) for testing. Here and there we made a few improvements, but on the whole the "Picco" was a success, and this time we also made some commissioned pieces.
My "Picco" only left me after many thousands of kilometres, mainly to school/work but also on longer tours, with an irreparable frame break. My other recumbent was stolen from me when we moved in 2017, it still rode flawlessly after almost 20 years!
Now what? For around 20 years I had only ridden lying down, and now I was supposed to buy a "normal" bike? Out of the question! It had to be something new, preferably a recumbent again, but with three wheels. I had learned to appreciate that very much over the years. The only thing I always hated was riding in the rain. Wet from above, wet from below and the dirt from the freely rotating wheels in my face.
Through my many tours and as a member of the HPV (human powered vehicles) I knew about velomobiles. Fully faired recumbent tricycles. In Leicester at the time I was allowed to ride in a prototype by Mike Burrows, a fully faired Windcheetah.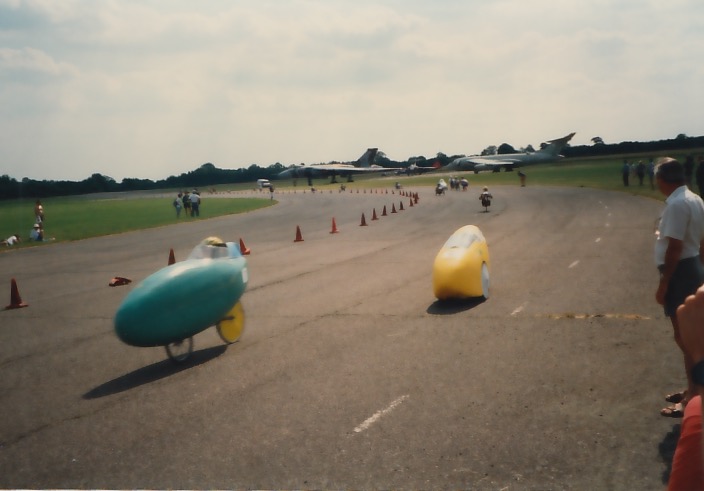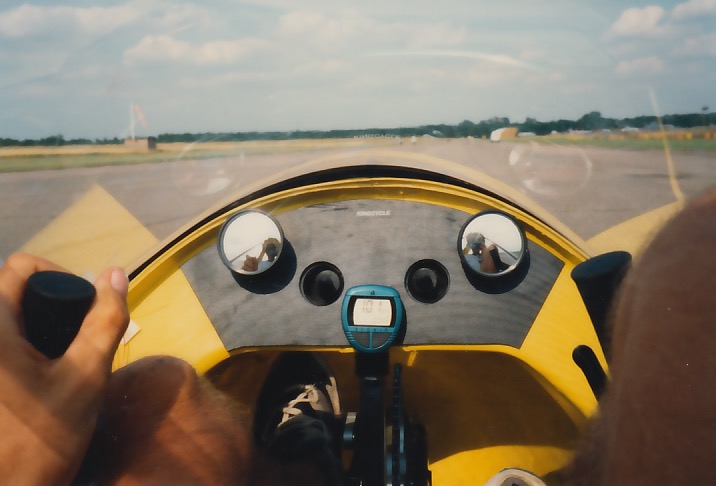 HPV World Cup Leicester (GB) 1996 - Fully Clad Windcheetah
This was still in my memory. It was supposed to be something like that! Fully clad through wind and weather, it was supposed to go ahead. A car was out of the question. At that time, it was about 18km from my home to work via cycle paths and along the dyke. With a car, the distance would not only have been longer, but also the time due to traffic jams, traffic light stops, etc.
The Windcheetah was only available in England at the time. A trip to England would have been nice, but too costly for me. So I looked around at the German and Dutch manufacturers. First a manufacturer in North Rhine-Westphalia, which we could easily combine with a courtesy visit to the in-laws....

But the velomobile I tested there didn't really appeal to me. It rode well, but my feet were a bit too big, I always bumped into the windscreen and I was only allowed to test it in an industrial area. The chemistry with the manufacturer was somehow not right, the velomobile didn't fit 100% - that was no good. But there was still the appointment in Holland and another appointment near Hanover/Germany.

On a bright sunny day we arrived in Siedenburg/Germany, the production site of the Milane. Jens Buckbesch was already waiting for us and after a short introduction we immediately started to drive the streets around Siedenburg/Germany.

What fun that was! The Milan ran, it fit like a glove and I flew through the landscape without much effort! After about an hour I knew I didn't need the appointment in Holland any more. I chatted with Jens for a while, took a few photos for the family and then headed back (unfortunately still without Milan).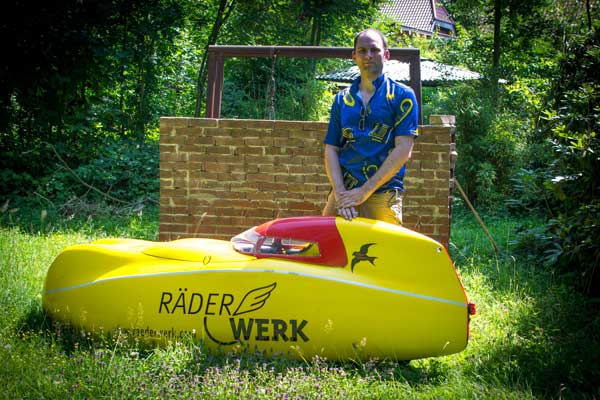 Milan GT MK2 at the Räderwerk in Siedenburg/Germany
It took a while until I ordered my Milan, and even longer until it was delivered. It was a long time to wait for a Milan back then. Anything less than 12 months was a record! Well, by the time my Milan was "born", my first child had also seen the light of day. With pram, wife and baby, we were allowed to go to Siedenburg/Germany to receive my second baby - although it was still a kit, which was about 1000 € price difference at that time. As a young father, you just have to watch the pennies.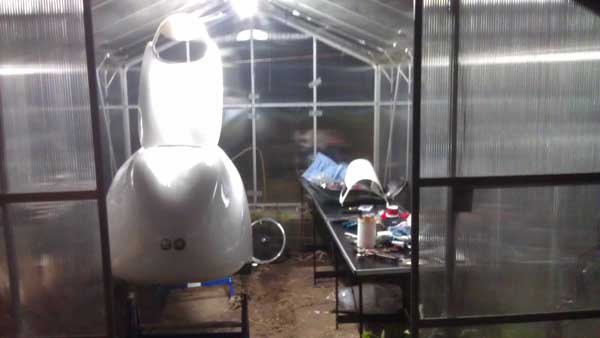 My first Milan kit
The assembly of the Milan was relatively simple, if you knew how to do it. Here and there I had to pick up the phone or send an e-mail with a photo, but in the end everything worked out and, thanks to a change of route, I could now enjoy the Milan even longer - the driving distance had become 4 km longer.
Initially still through the city, I very quickly looked for a route "around the outside". When the Milan is flying, a few kilometres more or less (almost) don't matter. What is annoying are traffic light stops or traffic jams. At least I can avoid the latter on the cycle path, otherwise I feel most comfortable on the road.
With speeds of ±55km/h, that's also better in most cases; who would expect such a bullet on the cycle path? And the car drivers tolerate me too, I don't really hold up traffic at that speed.
A change of residence meant that I was now able to enjoy my Milan for around 48km each day.
Positive side effect: compared to my weight before the Milan, I am now 10kg lighter, save the gym, the car anyway and have met a lot of new people - either on rides, or because they approached me about my "rocket".
In January 2019, Räderwerk approached me and asked me if I would like to become a dealer for them. I must have referred so many customers to Räderwerk (unknowingly) in all the years of riding Milan that they could well imagine setting me up as a dealer.
So there I sat, my wife was already worried, and in April 2019, after much thought and calculation, I ordered a Milan SL and Milan GT as demonstrators.
The initial plan was to sell them as a sideline, I wanted to build up the business very slowly over a few years and not rush into anything.
In the summer of 2020, my employer at the time filed for bankruptcy. I used this opportunity to finally turn my sideline into my main business.